We Are Red Herring Top 100 Global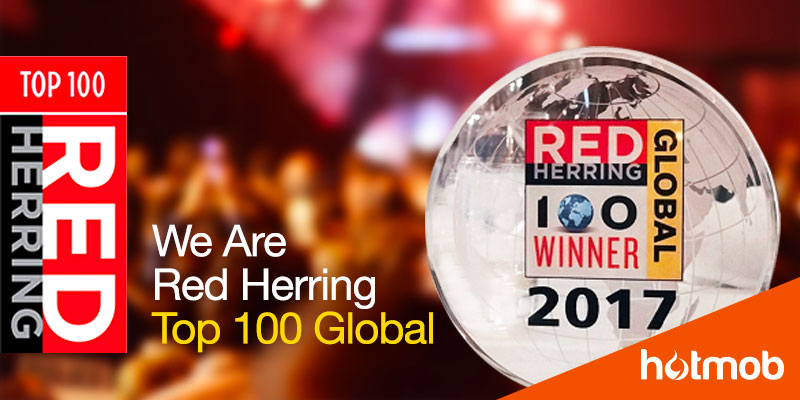 Hotmob is awarded 2017 Red Herring Top 100 Global!
Since winning Red Herring Top 100 Asia in 2014, Hotmob has taken it up a notch in 2017 for being recognised one of the Top 100 Global leading ad-tech companies, the only ad-tech company from Hong Kong competing with hundreds of privately held companies and finalists from North America, Europe and Asia.
CEO Johnny Wong said, "We are so proud to have achieved so much these years as Hotmob steps into the 10th year milestone. Huge thanks to my team who have made this happened!"
Professionalism & Quality Ad Delivery
Red Herring's Top 100 Global list has become a mark of distinction for identifying promising companies and entrepreneurs. It is the culmination of a year's work of scouring the globe and reviewing thousands of privately held companies from around the world. The pool of candidates for the award are the top private companies from the regional competitions in North America, Europe and Asia.
Johnny represents Hotmob to receive this prestigious award at Los Angeles on 13-15 November.
He added, "This award not only represents Hotmob a leading ad-tech company in the region, but also a proof of our professionalism in services, quality campaigns that achieved client's satisfaction, and our efforts in developing a Hybrid Mobile Marketplace offering premium advertising and data-driven mobile marketing solutions."
A Thorough Selection Process
Choosing the winners is not just an internal process. Red Herring uses more than 20 quantitative and qualitative criteria to evaluate the companies. Some criteria are scale-based and some are absolute numbers. All submitted companies that have attended past Red Herring events have gone through this process. Each must submits a thorough report for Red Herring judges to reach a decision.
Red Herring interacts with individual companies at several times prior to granting them an award. Also, all companies are examined by at least four judges before the conference, and by one or two judges during the event.
"Choosing the companies with the strongest potential was by no means a small feat," said Alex Vieux, publisher and CEO of Red Herring. "After rigorous contemplation and discussion, we narrowed our list down from hundreds of candidates from across the globe to the Top 100 Winners. We believe Hotmob embodies the vision, drive and innovation that define a successful entrepreneurial venture. Hotmob should be proud of its accomplishment."