Timable's Premium Native Ad Swings Into Action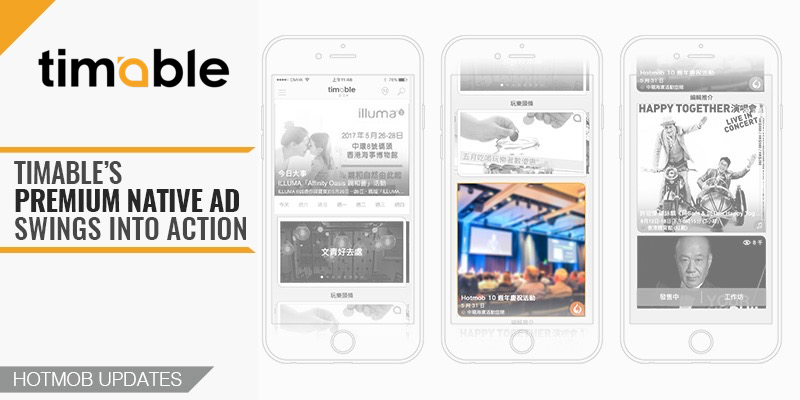 Speaking of non-intrusive user experience on mobile app, Hong Kong's event calendar Timable has nailed it by placing high importance on app flow and user's perception of display ads. The event publishing platform flourished with new advertising format "Premium Native Ad", in an attempt to bring a better and non-intrusive user experience to mobile users.
Premium Native Ad format will be deployed in Timable iOS and Android mobile app platforms (Mobile Web and Desktop Web at a later date), which matches the look and feel of the editorial content to which it's adjacent. They appear just like one of the regular event posts in Timable which can be recognized by Hotmob's fire icon with event title, date and location listed in the event cover.
Hotmob Vice President, Karen Leung commented, "The design of Premium Native Ad is to blend into its surroundings by adopting the style of a publisher app or website environment, so that they do not look intrusive to users. We wish to help advertiser to communicate a more individual message with users and attain higher engagement rate."
CEO and co-founder of Timable, Mike Ko added, "Timable has grown to 600,000+ monthly unique visitors together on mobile app and website. We are excited to see that users react positively to the newly Timable Ticketing service and expecting the same to native advertising. We  expanded our marketing business to Macau and the southern hemisphere metropolitan city Melbourne, providing the latest updates of exciting event ticketing and cool activities in each region."
For inquiry about the rate and availability of Premium Native Ad, please contact Hotmob Sales Team on +852 3526 0241 or drop us a line at [email protected]