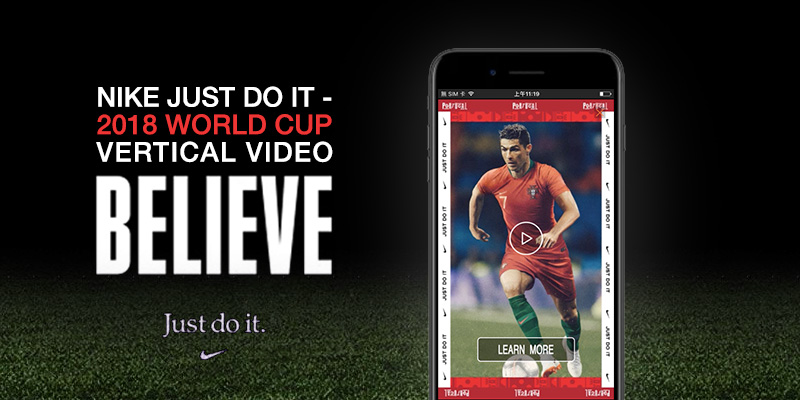 Nike's throwback of all the great moments of World Cup stars in its Verticle Video mobile campaign demonstrating what is to 'BELIEVE' ⎼ is 'Just Do It'!
This June/July the whole world audiences all have their eyes on the FIFA World Cup 2018.
Nike launched a mobile campaign through Hotmob's most popular ad format, Vertical Video featuring some of the all-time World Cup stars like Portugal's Ronaldo, Brazil's Neymar, France's Mbappe, England's Harry Kane, Naija's Iwobi, to promote the aspiration of 'BELIEVE' and to reinforce Nike's slogan of 'Just Do It'.
Video is definitely one of the most frequently used ad formats this year by many brands. In 2017, the number of mobile videos consumed has increased by over 15% compared year to year. Video viewed rate on Hotmob ad network demonstrated great result than other standard videos in the market, at 80.2%.
Hotmob's Vertical Video is built with advanced creative capabilities offer by Celtra's AdCreator. The strong array of video capabilities enabling advertisers and brands to deliver innovative mobile brand experiences to their prospects.
Hotmob's video formats can be customized to your requirements, such as a static banner below with a short video stick on top of it, or even adding an interactive game to engage audiences to build brand awareness.
For more video creatives, check out the following demos which are created by Hotmob creative team or contact us directly to see how we may help with your next mobile campaign and increase user engagement with your ads.
Credit to
Client: Nike Hong Kong
Mobile ad platforms: Hong Kong Movie, Hong Kong Toolbar
Ad format: Vertical Video